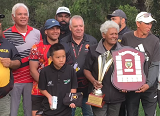 Aboriginal Golf Day 2023
Get into golf!
This website contains names and images of people who have passed away.
It is sometimes said that golf is a great way to ruin a good walk, but consider these benefits:
physical exercise in beautiful surrounds;
relaxation;
it teaches problem-solving and patience;
social networks;
The Aboriginal Golf Club of SA aims to encourage, promote and advance the game of amateur golf throughout the Aboriginal communities of South Australia. And as an Aboriginal organisation, we are also partnering with Nunkuwarrin Yunti to help improve the health and wellbeing of Aboriginal people through the promotion of smoking cessation.
Golf can be an expensive game, but there are a number of keen Aboriginal golfers from around the State who enjoy getting together for the annual Aboriginal Golf Day and other occasions.
We're also keen to help in unearthing and supporting new young talent.
To become a member of the Aboriginal Golf Club of SA in the 2023-24 season, click on the following link to the application form:
Fees for the year are $40. We also have a special deal with the North Adelaide Golf Course to help those who are not a member of a golf club to get a handicap and participate; for more information, click here.
If you have a query or comment, or wish to submit a completed form, you can do so by emailing feedback@agcsa.org.au.